Investigating a new platform or technology to collect, manage, and report environmental data can seem daunting. One size rarely fits all, especially with mobile data collection apps on the rise in every industry segment – from compliance through restoration. You'll soon find that the apps available range from simple and stand alone, to comprehensive systems with an integrated, cloud-based web application for management and reporting. If you've found your way here, it's most likely you're looking for a professional-grade solution.
An added challenge in evaluating the most appropriate software platform, is the task of satisfying various people and roles within the organization. Considering those needs, in tandem with asking the right questions, will provide a clearer picture of which functions, features, and options will best fit your business.
If you're super short on time, you can jump straight to our list of 10 Essential Questions for Environmental Data Collection Apps below, or download the PDF guide to buying an environmental app checklist. However, for a better understanding of what's required, it's worth taking a few moments more to consider the key organizational roles in the end-to-end process from field data collection to submitted regulatory report. Key roles include the following:
Data collectors searching for an intuitive tool and efficiencies in the field, who may also require complex data to be accurately preserved and possibly need a custom survey design.
Project managers accountable for detailed, consistent and timely reports that satisfy the boss, the client, and regulators.
Principals or department heads who need to prioritize expenditures and deliver within (or under) budget.
Business owners and finance managers responsible for the bottom line.
Sales or contract managers who value a competitive edge.
IT professionals responsible for the company's technology.
So, how do you help your organization make the right choice? Given the needs of each segment of the environmental industry can vary, we've put together a list of 10 essential "must ask" questions as a decision starting guide for you.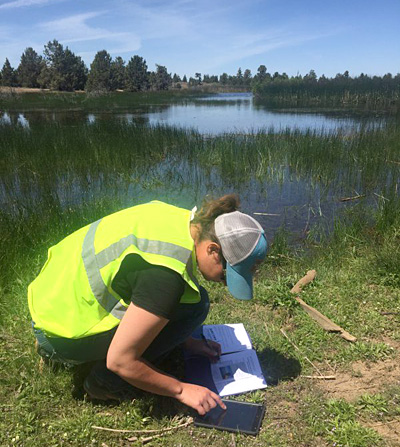 1. Does the software company understand our environmental field?
Software that's designed for what you actually need, rather than what a developer thinks you need, is the difference between a show pony and a tool that's genuinely useful. Look for a company that demonstrates domain expertise and is willing to partner with experts in your industry to guide the development of its product. Unnecessary bells and whistles, as well as features not suitable for your physical environment, can serve as distractions and hinder implementation. Often, it's the simple attributes that create the most practical tool; for example, the ability to automate the tasks you perform most frequently, or to eliminate others altogether. The repetitious nature of environmental surveys turns time savings on these simplest of tasks, into substantial cost savings.
2. What customer support and professional services are available?
Change is never easy, individually or as a department. This is particularly so for changes that involve multiple processes and a host of different people and functional roles. Expect to meet some resistance internally and to require help externally. Transitioning from pen and paper to a mobile device also means adopting new workflows. An environmental-software company committed to helping you through this process with prompt customer support, professional services, and customized development where necessary, is essential. Without such support, the journey will be more difficult and ultimately, more costly.
3. Is the platform cloud-based, or do we need to install software?
A comprehensive, quality platform for collecting, managing, and reporting data will include a web application. If you need to physically install software onto your office laptop or desktop computer, you are at the whim of physical devices, changing hardware and operating system requirements, and archaic license-checking systems. A cloud-based web interface frees you to work in the modern world, independent of location or device.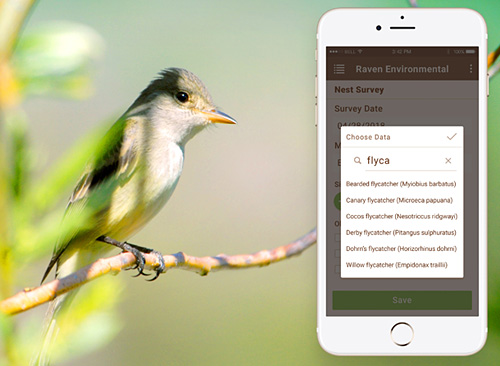 4. Does the mobile app work offline on both Android and iOS?
For many reasons, data collectors may either want or need to use their own mobile phone or tablet devices. Conversely, your organization may have already invested in phones or tablets and not want to change. A mobile app that works on both Android and iOS platforms avoids the issue of making a company-wide decision or commitment to a specific mobile operating system. That flexibility also ensures you can choose an app based on its project utility, rather than the mobile device type already in use by your company.
As almost every data collector can attest to, environmental projects often involve fieldwork in locations where cellular reception may be intermittent or even non-existent. It is imperative collected data can be stored offline.
5. Can the vendor build custom features for unique environmental projects?
Environmental projects are complicated and subject to regulatory compliance that varies with changes in political and community attitudes. Even the most thoroughly researched environmental app boasting a breadth of features, may need tweaking to meet the challenges of unanticipated situations. Can you request a modification of the standard app you'll be investing both budget dollars and staff hours to integrate? The assurance of a customizable app – particularly one provided by a software vendor founded on programming complex environmental projects – ensures success against future unknowns.
6. Is there a library of pre-built data collection survey forms?
Pre-built survey forms and templates get you off the mark quickly and make learning a new app or undertaking a new project much simpler. With a host of regulatory bodies requiring specific surveys, a range of survey-form templates should be standard with any professional grade environmental data-collection platform. To augment the standardized survey format, these forms should also be adaptable, with a selection of custom input fields to help you create the exact form you need.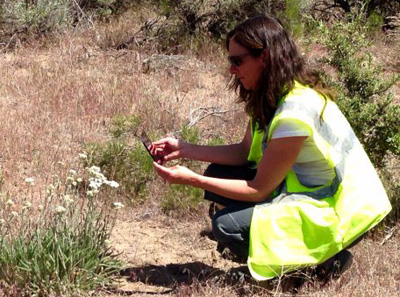 7. Are photo management, pre-formatted reports, and precise regulatory export features available?
A picture speaks a thousand words and photo records have become a vital component for a range of environmental projects. Eliminating the lost hours spent manually uploading, logging, and reconnecting photos to associated data is one of the big payoffs in using digital technology. Countless hours can be spent complying with the formatting minutia regulators require in statutory reports. Given such bureaucracy, being able to seamlessly output project data and photos into pre-formatted reports – and to export information exactly as environmental agencies demand – dramatically improves efficiency and accuracy.
8. Is the database both scalable and searchable?
The ability to respond quickly to growth opportunities with a minimum of retooling can make or break a company. A scalable database with sophisticated search capabilities are attributes that keep you poised and ready to expand. A platform should both fit your organization now and have plenty of headroom to handle more complex projects and greater volumes of data in the future.
9. How will the new collection and reporting system integrate with our existing software?
Assessing if the export formats on offer are compatible with your company's existing software, ensures the smooth integration of the proposed new data platform. In particular, consider the database, spreadsheet applications, and GIS tools you currently use. If a conversion step is required to integrate the applications, evaluate the ease of execution, or ask if the vendor's professional services team can create the integration that you need. Also, determine if the software you're considering includes an API.
10. Does the platform consider field data collectors, project managers, and decision makers?
Environmental projects inevitably involve a chain of people, tasks, and responsibilities. Technology that focuses on just one, or even a few of these links, will suffer from a lack of staff commitment, and won't deliver the reporting integrity and oversight necessary at the highest levels. Successful adoption of a digital platform ultimately should deliver value to everyone in the process.
Our goal is to assist you in finding the best data platform solution for your environmental business.  We're happy to provide further guidance through the selection process, and also offer an obligation-free demo of the Wildnote environmental app which you can schedule here, or call us at +1 (805) 664-0090.