Wetland Delineation
Cut Costs. Manage Data. Report Faster.
Wildnote provides end-to-end wetland delineation environmental compliance solutions. Deliver faster, more accurate USACE regulatory-compliant reports with project transparency. From mobile data collection and photo management, to frustration-free reporting, Wildnote automates your processes and offers pivotal data insights and management.
Take control of environmental compliance costs and reporting on complex construction monitoring projects. Improve efficiency by 40-80% with Wildnote's integrated field survey data, photos, USACE-ready wetland forms, and report exports.
I would say the number one Wildnote benefit could be summarized in one word:  Consistency.
Sheryl Creer, Stantec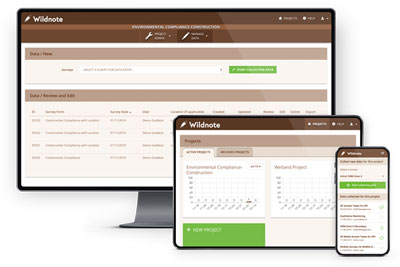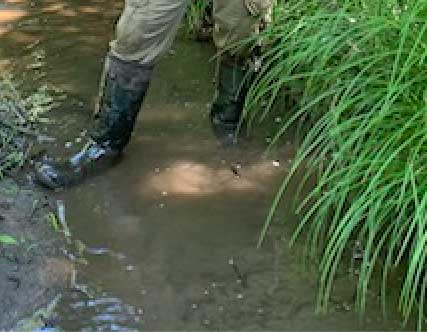 We did explore ArcGIS Collector and Survey123 for a solution prior to coming to Wildnote. We absolutely did. We tried to get it done in-house but couldn't because of the complexity of the forms we were trying to recreate, and the automation that we were trying to create. We just couldn't get it done.
Dillon Dittmer
Nebraska Dept. of Transportation
INDUSTRY KNOWLEDGE
Wildnote Knows Wetlands
Our wetland determination tools make it easy to comply with USACE nationwide permit requirements. Take a look at our range of features specifically designed for wetland delineation. Not only do they expedite field data collection, management and reporting obligations, you can say 'goodbye' to project QA/QC headaches.
Complete regional plant lists make it easier to work across multiple states
Smart, searchable Munsell Soil Color Chart dropdown list
Photos for each vegetation section for easy QC back in the office
Mobile calculations and auto-fill for:

Indicator status
Dominant species
Dominance Test worksheet
Prevalence Index worksheet
Rapid Test
FAC-Neutral Test
Summary of Findings

Dynamic locations allow you to add sampling points on the fly
Eos Arrow and Trimble R1 integration for submeter accuracy
See more of Wildnote's environmental compliance automation features and pricing.
TRANSFORM DATA MANAGEMENT AND REPORTING
Consistency and Transparency
How much of your time is spent on ensuring data consistency on wetland delineation projects? How much time is spent completing QA/QC and managing photos while post-processing data?
Do you have problems managing:
Consistency in survey completion—all fields from every data collector completed uniformly, and tracking of submitted forms from all crew members?
Consistency of data entries—variations in submissions, such as scientific/botanical names versus common names?
Excessive post-processing—time-consuming QA/QC, and post-survey addition of data?
The core purpose of our software platform is to alleviate these challenges and revolutionize your environmental project workflow.
By adding data consistency and transparency throughout the wetlands project lifecycle you:
Can quickly satisfy the information needs of all stakeholders, including construction permittees, regulators and environmental consultants.
Instantly access all project data at any time from anywhere.
Take advantage of impressive efficiency gains with a range of  'one-click' reporting formats from a single data source.

Having a technology base like Wildnote helps with transparency.  It shows real-time work, real time. "This is what we did." What helps—regardless of where you are, who you are, or what role you're in—is transparency.
Kenda Pollio
KP Environmental
Save on Every Wetland Delineation
Wetlands Project | Actual Time Comparison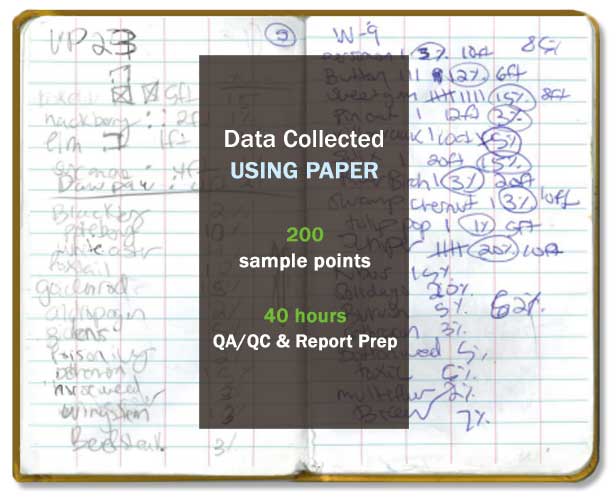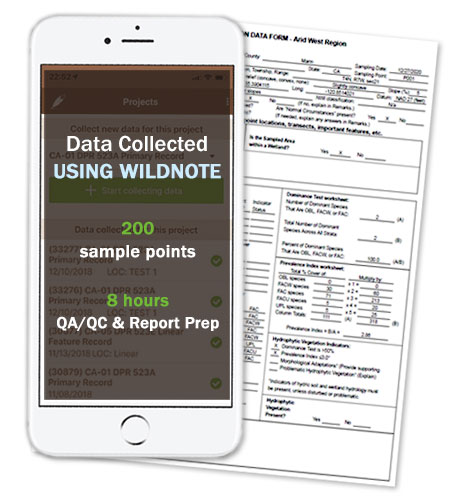 Estimate your project cost savings with our Savings Calculator.
Assess Your Readiness
Ready to optimize your project—and budget—with Wildnote?
We recognize that transitioning to an end-to-end digital environmental compliance solution takes commitment.  Moving from paper to electronic field data collection and survey administration is one vital component, sure. But the Wildnote platform adds data management, greater transparency, and integrated reporting—a complete toolset that generates fundamental workflow improvements.
Is your company ready?
Experience has shown us that mindset is key to successfully adopting and unleashing the proven potential of our environmental compliance automation software. Take the Wildnote Digital Readiness Self-Assessment and find out if the time is right for you.
How can we help?
We're ready to answer your questions, demonstrate Wildnote's features, and help you experience our platform in a free trial. Reach out to us!
Continuous Improvement
Wildnote's Wetland Delineation Keeps Getting Better…
Wildnote knows wetlands because we've listened—and continue to listen—to our clients' needs and requests. We've already expanded the wetlands component of our environmental compliance platform through four development cycles. Still more improvements are slated for an impending version 5.0. Here, Founder and CEO, Kristen Hazard, announces the latest software enhancements in a continuing commitment to make the survey and reporting process easier for wetland scientists.
Seamless Geolocation Support
GNSS Integration with Submeter Accuracy GPS Devices
Wildnote's compliance solution far surpasses one-dimensional apps by providing GNSS integration with submeter accuracy GPS units provided by Eos and Trimble.
At Wildnote, we've partnered with leading GNSS device manufacturers, Eos and Trimble to integrate our iOS and Android apps with their bluetooth GNSS devices. These include the submeter accuracy gps units, Eos Arrow and Trimble R1. Pair either unit with your mobile device, and Wildnote automatically records high accuracy geospatial data right alongside your other survey data.
This eliminates the need for manual transcription of field survey location data and minimizes the devices you need to carry on wetland delineation treks. Geospatial data is readily available for inclusion in reports, mapping software, and broader data analysis.
Prior to using Wildnote we'd have to transcribe from our ArcGIS Collector shapefile into our Excel form, which was really tedious. If you're doing a project with 50 or 100 wetlands, you're spending a long time looking between the shapefile info and typing it into Excel… it's a lot of double work. With Wildnote, you get prompted for each field which is then exported directly into Excel. It saves a lot of time in transcribing—you don't miss anything!
Matt Spadoni, EDR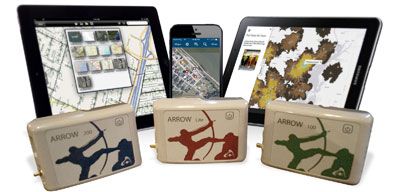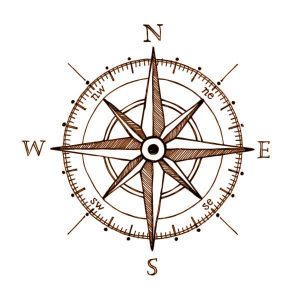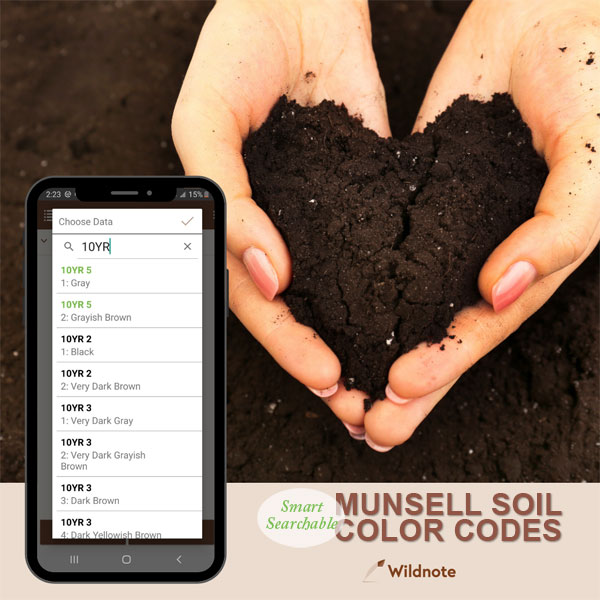 QA/QC is now a streamlined process. An hour after the site closes we're able to confirm that everything is done for the day and uploaded… Our client basically says that just doesn't happen that seamlessly—ever."
Kenda Pollio
KP Environmental
Advice from Experts
5 Top Wetland Survey Tips
Pre-populate form fields before heading out to collect wetland data. By pre-populating as many fields as possible (even limited-option fields) you reduce survey time and ensure consistency.
Upload references for survey crew to use in the field. Add books, PDFs, and other documents to the project, ensuring you have less to carry and can access what you need offline.
Maximize the duplicate form feature. Field crew members rejoice when shown the copy feature! Copy a previously completed form and simply update what needs to be changed!
Easily build your own Drainage Delineation and Wetland Summary forms. Create additional forms based on the USACE Wetland Determination form. A form set that makes it painless to collect all required data and stay consistent.
Embrace the Editable Grid for bulk edits. Edit across data sheets for a significant time-saver.
USACE GUIDANCE
Wetland Delineation Reporting Developed with USACE Pioneer
Wildnote's digital wetland determination data form and delineation reporting features were developed under the guidance of US Army Corps of Engineers (USACE) pioneer, Charlie Newling. 
Charlie Newling played an instrumental role in defining and protecting our national wetlands and the habitats of threatened and endangered species. As a result of this close collaboration with Newling and other industry experts, Wildnote proudly offers USACE Wetland Determination Data Forms and exact exports for all 10 USACE Regions:
Alaska
Arid West
Atlantic and Gulf Coastal Plain
Caribbean Islands
Eastern Mountains and Piedmont
Great Plains
Hawai'i and Pacific Islands
Midwest
Northcentral and Northeast
Western Mountains, Valleys, & Coast
Wildnote-Generated Sample Forms and Reports
Wetland Forms. Photo Logs. Agency Reports
Wetland Determination Data Form Sample: Great Plains Region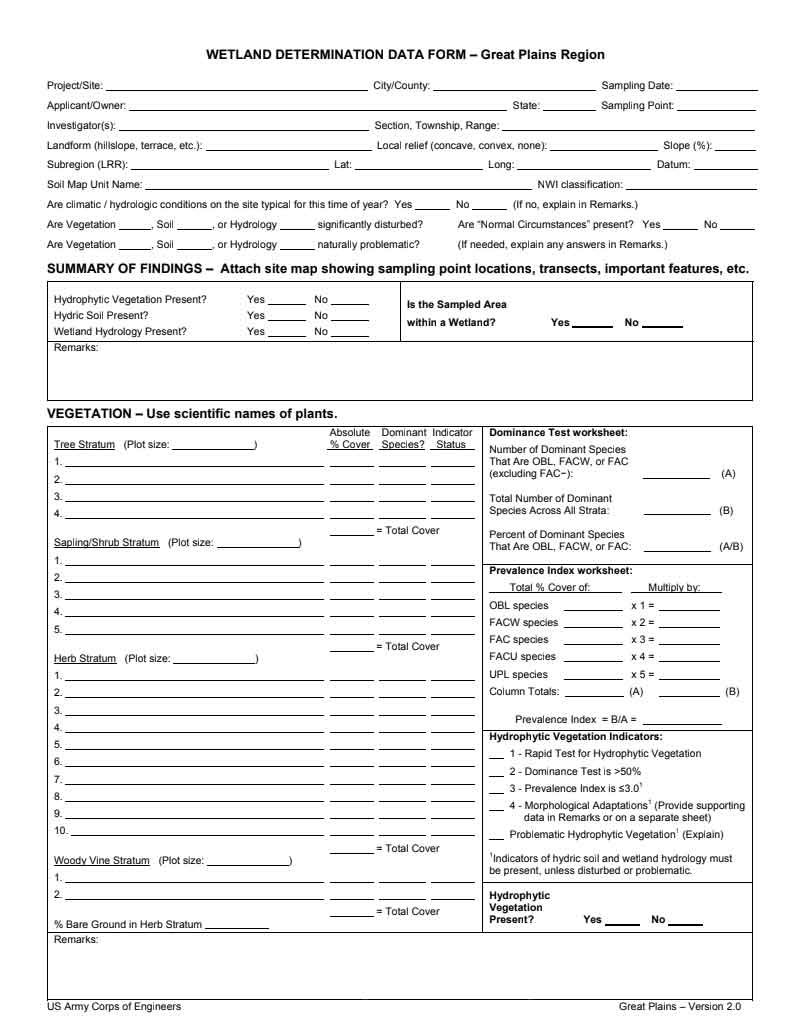 Wetland Determination Data Form Sample: Arid West Region
Data Control and Integration
Web Interface & Mobile App: Working in Tandem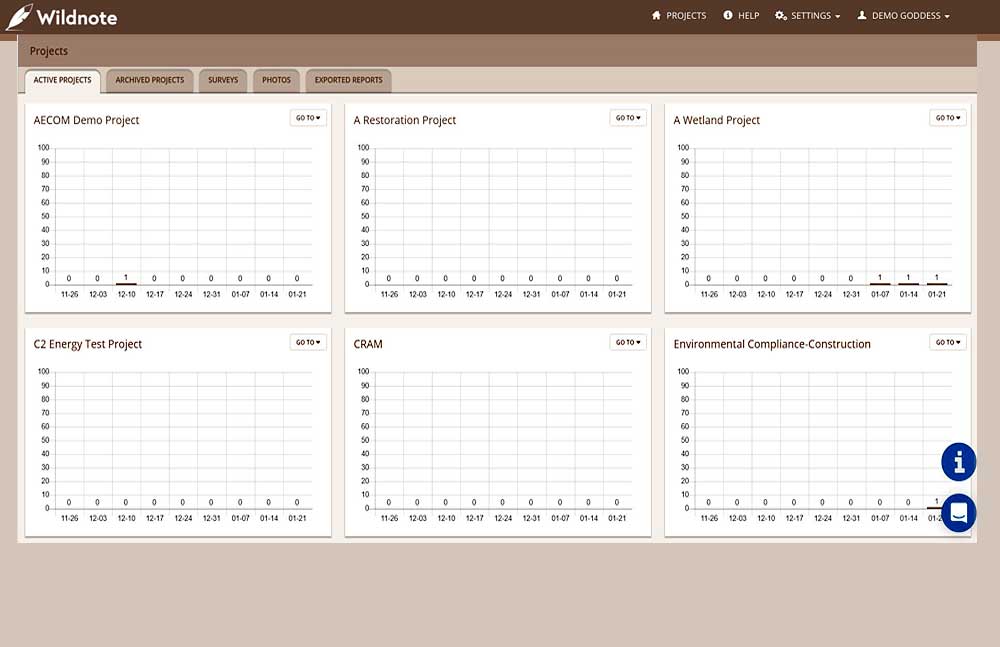 Click on the magnifying glass in the top-right of any image for a full-screen view.
Applications for Other Industries | Case Study
Wetlands Mitigation
Wildnote has a better photo gallery than other survey apps I've used. I like that I can download in batches and it has better organization and is easier to use.
Lynnette Batt, Wildlands
Wildlands is the national leader in wetland mitigation, endangered species conservation banking, habitat management, and ecosystem restoration. 
Lunch & Learn Zoom Workshop
Wetlands Webinar
Watch this lively discussion on digital wetland delineation tools with wetland scientists Sheryl Creer of Stantec, and Matt Spadoni of Environmental Design and Research. Insightful tips of saving time, achieving survey form consistency, and producing cleanly formatted reports without the headaches of paper.