Environmental Compliance and Monitoring
Saving Costs on Transmission Line Projects
Utilities Keep Their Environmental Footprint Light
Transmission line construction traverses through a lot of different types of terrain and wildlife habitats. While transmission line work generally has less ground disturbance than other large construction projects there is still disturbance. Regardless, the end result is to have the land restored to pre-existing conditions and as close as possible to its natural state. During projects K2 works to prevent runoff and erosion by implementing project Stormwater Pollution Prevention Plans (SWPPP) and utilizes protection measures to protect wildlife, habitats, and sensitive resources. Areas that are disturbed by construction activities are closely monitored to ensure that reclamation efforts are successful. The details and complexity of meeting environmental compliance requirements vary from project to project and regulations vary from state to state.
Transmission Line Construction and Repairs
Most of K2's clients are constructing new transmission lines or working on repairing existing transmission lines. The structures may be made of wood or steel in different configurations and projects range from repairing one or two towers to much larger projects that can span 100 or more miles in length. Tori Gruenewald of K2 said "I work on large scale transmission line projects and ensure all of the environmental compliance regulations are followed during the construction phase of the project and oversee restoration/re-vegetation of the project as well." One such project was the Bonneville Power Administration's (BPA) South Hillsboro Transmission Line Rebuild project.  Eleven transmission line towers and three miles of right-of-way needed to be elevated in order to meet the clearance requirements for new roads to be built underneath them as part of a subdivision development. The towers were raised up while the footings were rebuilt. At the same time, crews added length to the towers to make them taller. This part of the project occurred over 2 months in the fall of 2016.
Armed with documents spelling out the mitigation requirements for the project, Gruenewald monitored the work sites daily and documented for compliance. Once the initial construction was completed, Gruenewald returns to the site to conduct stormwater inspection and monitor the regrowth of the vegetated areas. She cannot "release" a project from being monitored until it has reached 70% stabilization. If the reclamation efforts are unsuccessful, supplemental planting or re-seeding will be recommended during the appropriate planting window.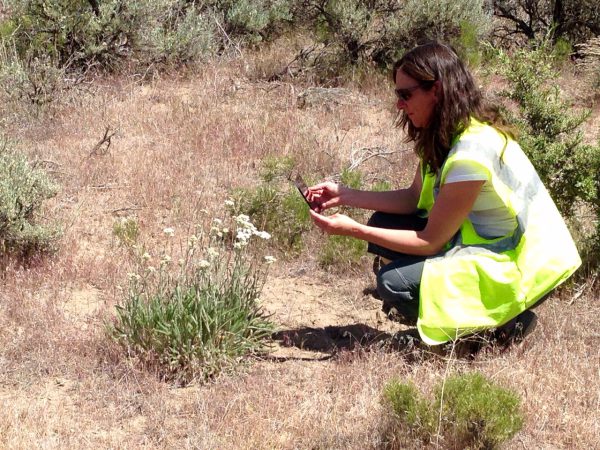 Sharon Gutowsky documenting vegetation along project row in Bend, Oregon
How to Address Survey Form Variations and Report Formatting Problems?
Bouncing along dirt roads in a pickup truck while trying to write notes and conduct inspections was getting old. Packing in multiple pieces of paper and gear and then spending hours after work, or on weekends, transcribing notes, entering data, integrating technologies, formatting reports, importing and labeling photos was getting even older. For many environmental consultants, reporting is the least desirable part of the job. "Nobody is saying 'Oh, guess what? I get to do a report now!'" said Gruenewald. And doing those tasks from a remote location can be even more challenging. There had to be a better way.
Prior to Wildnote, Gruenewald might carry maps and report forms, a writing tablet for notes, a camera, GPS and a phone. Adding new technologies meant adding more gear, and it didn't always have a payoff that was worth it. Typing on a laptop wasn't any easier than writing on paper as a passenger in a moving vehicle on a dirt road. Uniformity from project to project was another big challenge. K2 might have multiple active projects with a single company and it was difficult to present clean consistent reports; especially with the detailed requirements from the client or the regulating agencies. Gruenewald said staff would pull a generic "blanket form" and then modify it for their particular project. Each person might modify theirs a little differently.
Choosing an Environmental Data Management Solution
K2's Owner and Operating Manager, Maria Britton, wanted "To make reporting easier for our staff and more accurate and timely for our clients." They decided the solution was to put Wildnote to work on iPads in the field.  Gruenewald said the interface was "super-easy to learn" and she started saving time right away. "My favorite thing is being able to take a photo, label it right in the app and attach it to the report. Before Wildnote, we were hand loading photos, there was no way to label them so it was time consuming to sort through and figure out what was what.  This way, the formatting and labeling is already done for you. I can also geotag photos."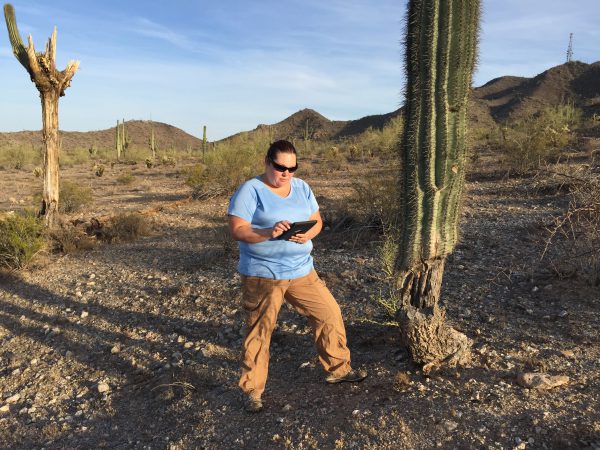 Denise Garcia, a K2 biologist, documenting locations of cacti along the project ROW in Arizona
Field Biologist, Denise Garcia, also likes the ease of sharing data and report elements with managers via the cloud. "It has an easy interface system that allows the office to see reports without constant emails being sent. It's easy to make changes and share. I spend zero time at the end of day doing reports." She added that "using the app on an iPad makes it easy to view the whole report and check for errors before submitting, which can be hard on an excel sheet."
Gruenewald said that moving to the iPads with Wildnote also made it possible to integrate other technologies without adding hardware. "We have been able to explore ARC GIS Collector and add that to our iPads for real-time navigation. Normally we would have had a camera, GPS, notepad etc. Now, if I head out with just my iPad with the Wildnote app and my phone, I can do everything I need to do."
Because of Wildnote's ability to easily customize and update forms, the SWPPP survey forms are now created with more detail which creates consistency across projects because individuals aren't modifying various generic forms. She said the duplicate feature creates even more consistency as it saves time. "Inside the SWPPP report, I can go to "last week's SWPPP" and open it up and select "duplicate survey" then I don't have to re-enter redundant information. It automatically updates the date so I don't confuse the reports."
The Wildnote platform is more than just an app. It is an integrated system for data collection and management. Use the mobile app to collect and organize data in the field, and use the cloud-based desktop application to manage it. No more sorting through and blending multiple styles of writing, organizing and displaying data and photographs in order to present a cohesive concise report to a client. Wildnote does the heavy lifting for you.
Gruenewald said the consistency also helps them convey information better. "Now we're comparing apples to apples and not apples to pineapples." K2 can economically deliver an inventory of clean, consistent, professional reports. Britton is pleased about that benefit. "I think it brings a higher level of sophistication for our small company that I think shows well with clients and other associates."
Oh, and that bumpy truck issue? No worries, the voice activation feature lets you dictate instead of typing.
Calculating Transmission Line Project Savings
K2 currently has five people using Wildnote to document environmental inspection activities on various transmission line projects.  Britton estimates that each user saves 30-60 minutes per day on reporting. "Likely much more time than that on photo management since the photos are going directly into the report," she said.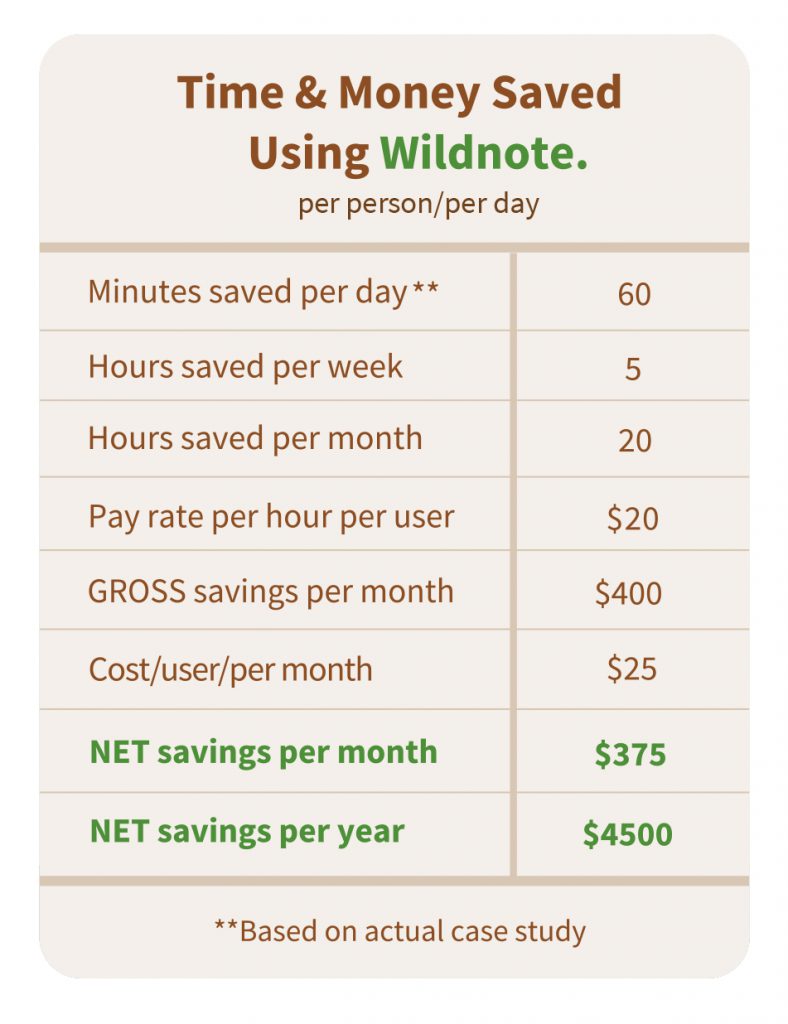 Conclusion
Switching from outdated pen and paper collection methods to Wildnote accomplished K2's original objectives and more. Customers are happy because they receive timely, consistent reports that are more usable because of the flexibility and portability of digital data over handwritten data. The staff is happy because the least enjoyable part of their work is now automated, saving them time, errors and frustration. K2 is pleased because the increased efficiency allows them to deliver a better product, increase job satisfaction, and save money all at the same time.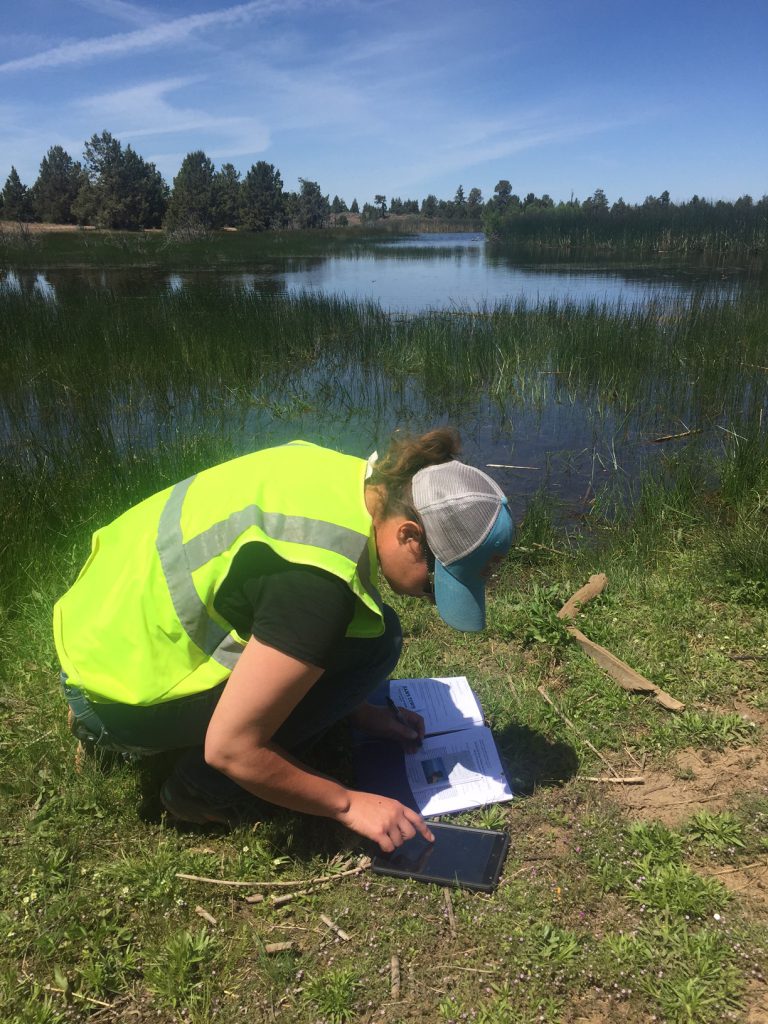 "The  more I integrate Wildnote, the less I say, "I have to catch up on my reports." – Tori Gruenewald