Can a Digital Tool Like Wildnote Really Replace Pen and Paper?
Introduction
Peterson Mitigation Bank Case Study

Daily monitoring of the largest mitigation banks in California is no easy feat. At the end of a fast-paced, dusty day, the last thing biologist Shawn Carroll wants to do is sort through a pile of paperwork, transcribe hastily written notes, and process photos into an integrated document. He recently replaced his paper and pen with Wildnote to find out if a digital app could reduce frustration in the field and time spent at a desk by making data collection, management, and reporting more efficient.
Background
Carroll is a biologist with WRA, Inc., an environmental consulting firm working for Land Veritas Corp., the owners of the Petersen Ranch Mitigation Bank (the Bank). The Bank consists of two sites that total more than 4,000 acres of diverse topography and biology in unincorporated Los Angeles County, California. Together, the sites fall within the proposed San Andreas Rift Zone Significant Ecological Area and the Desert Renewable Energy Conservation Plan Area.
When restoration of these lands is complete, the Bank will generate mitigation credits available for purchase to offset unavoidable environmental impacts from other development projects in the region. It is an ambitious project that received final approval on October 7, 2016.
The land had been previously used for hunting and the owners altered substantial wetland habitat to create ponds. The primary mitigation work is the restoration of these wetlands and associated habitats. The Bank also includes extensive foraging and nesting habitat for the threatened Swainson's hawk.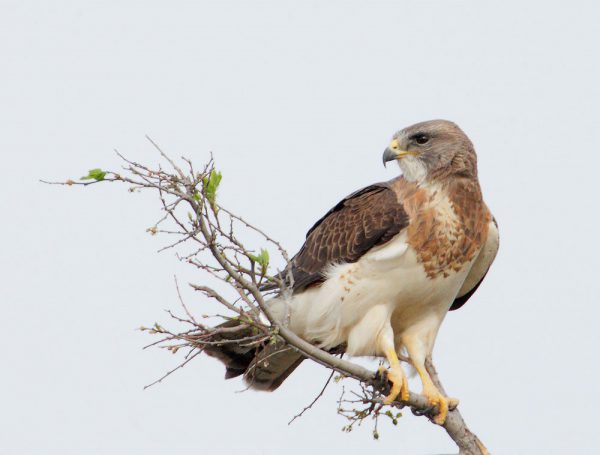 Swainson's Hawk, Buteo swainsoni – photo by Tom Grey
Carroll described it as "a big restoration project, and involves clearing vegetation and moving dirt to restore the natural hydrology and native habitats of the area to turn it into a mitigation bank." Carroll's team used Wildnote to collect, manage, and report data during construction.
The Problem
As heavy equipment dug and pushed earth around, the team made sure the work was environmentally compliant and any disturbed animals were safely ushered out of the work area, or captured and relocated. His team also tracked and reported the use of Best Management Practices (BMP) at the site.
His team worked around active, heavy equipment, which meant working fast in lots of dust and working long, exhausting days.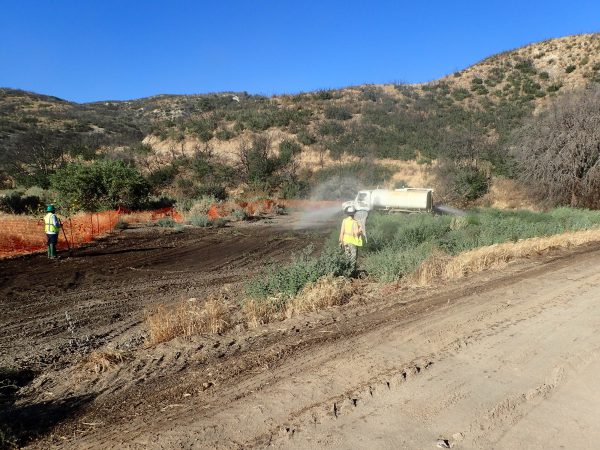 A WRA biologist monitors excavation and dust abatement in one of the restoration areas.
Carrying 10-page, paper-report forms into the field (with a new set needed for each day) and then transcribing handwritten notes and surveys into a data base after a long day was tiring and tedious work.Carroll looked to technology to make the whole process easier and more efficient.
The Solution
Because Wildnote is specifically designed for the environmental-services community, it's perfectly suited for WRA and the routine, environmental compliance work Carroll does. All the field data, including geotagged photos, and survey locations is entered on iPads, replacing the cumbersome paper forms. Daily reports are efficiently organized, added to the project files, and sent to the client via the export-report feature. Weekly bird-nest surveys are submitted to the California Department of Fish and Wildlife, and when a nest is found, a nest-monitoring form is also submitted. Wildnote support worked with WRA to develop a project-specific, Best Management Practices form as part of the daily monitoring forms.
While some of the data is still quickly jotted down on a notepad and entered at the end of the day, Wildnote gives the team the convenience and savings Carroll was looking for. "Once my notes are done in the evening, I don't have to deal with it again," he said.
Project Savings
After the data is collected onto the device, it's transferred to the cloud for secure storage and retrieval as soon as a connection is available. When it's time to manage the data, Carroll logs in back at the office via the Wildnote web app. Surveys, photographs, maps and more are incorporated into reports with a few clicks. Carroll notes that not having to integrate everything manually is a big time-saver. "I estimate we each saved 20-30 minutes each day," Carroll said.
Wildnote users can use standardized survey forms, edit existing survey forms, or design their own specific to their needs. As a new user, Carroll decided to have Wildnote staff help develop the detailed survey forms used for this project phase.  When asked if he would recommend Wildnote to a colleague he responded with an enthusiastic, "Yes."
He pointed out that it is particularly useful for paper-heavy projects like wetland delineations, which require data intensive standard forms, species-specific surveys, vegetation surveys and anything with a checklist. Carroll is looking forward to using even more of Wildnote's features in phase two and expanding its application to other projects. "I'm curious to see how the custom form builder works," he said.
Conclusion
With Phase I almost done, Phase II is set to begin later this year. More than 150,000 individual native plants and 1,000 pounds of native seeds were planted in restoration areas throughout the site.
The project must reach several milestones in the next 2-3 years before all of the bank's mitigation credits are available for sale. With Wildnote's help, that day will come a little sooner.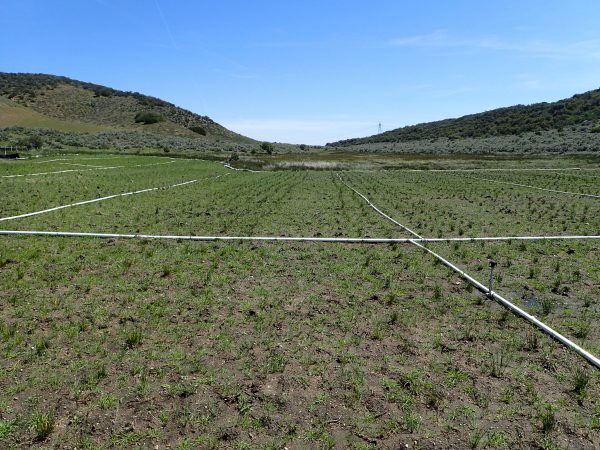 One of the completed wetland restoration areas
When asked if he would recommend Wildnote to a colleague, Shawn Carroll responded with an enthusiastic, "Yes."
Update (7/8/21):
Area A of the Petersen Ranch Mitigation Bank received its 3rd credit release! Well done Land Veritas and WRA. It's always great to share the success of these long-term restoration and conservation projects that our customers work so hard on.