Wildlands and Wildnote Team Up for
Ecological Monitoring Success
Wildlands created the first mitigation bank west of the Mississippi in 1994. With more than 75 projects covering over 41,000 acres, Wildlands focuses on creating open market solutions that protect our environment.
"I like that I can call someone on the phone and say, 'I need this. Make it happen.'"  -Lynnette Batt

The Complexity of Ecological Monitoring
Counting thousands of trees just got easier…
Field biologists for Wildlands are always counting things…lots of things. They count trees, shrubs, ponds, insects – you name it – they count it! Ecological compliance manager Lynnette Batt is tasked with managing that data, and tracking complex ecosystems requiring complex documentation. Batt is always looking for ways to reduce paperwork and to work more efficiently, so she chose to utilize Wildnote in her environmental compliance work.
Wetland Mitigation Banking: Preservation and Restoration
Wildlands is a mitigation banking company that manages many different, large ecological preserves. There are currently more than 80 sites being monitored. Different sites have different goals. Some sites are focused on preservation, while others include restoration.
The Sacramento River Ranch Mitigation Complex in Northern California models mixed agricultural and environmental land uses over about 5,000 acres along the Sacramento River. It is situated near one of two zones designated as critical habitat for the Valley Elderberry Longhorned Beetle (VELB).
A 228-acre VELB Habitat Conservation Mitigation was established in the Complex, along with a 100-acre Federal Wetlands Mitigation Bank, a Bank for Salmonids, and a Swainson's Hawk Preserve. Batt decided to use Wildnote to speed up data collection in the VELB and Wetlands Mitigation Banks.
The VELB spends its entire life cycle near its host plant, the red or blue elderberry, and habitat loss has pushed it to threatened status.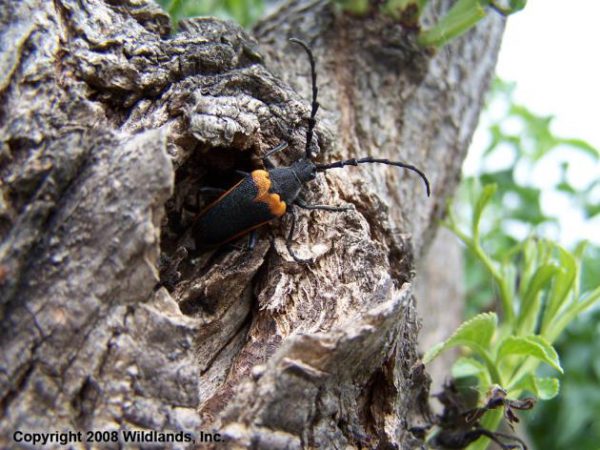 Valley Elderberry Longhorned Beetle
Because of that, the VELB Bank is a restoration project that involves planting elderberry bushes and other trees that naturally occur in the same riparian environment.
These plantings, along with any "volunteers" that sprout up, must be monitored annually for health, growth, and other characteristics. The latest surveys in the VELB Bank required monitoring 3,600 trees and shrubs.
Batt also needed to collect data in the Wetland Mitigation Bank, a restoration site. This count included more than 2,000 trees and shrubs ranging across 52 plots.
Field Data Collection that Works
Field biologists needed to count 15 species while documenting four different parameters (good, fair, poor and recruits) for each tree or shrub as well as size information for some of the shrubs. The data collectors took clipboards and reams of paper into the field to hand-tally the vegetation and record the condition of each.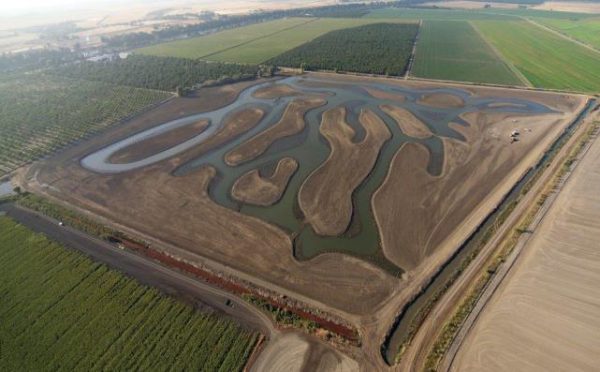 River Ranch Wetlands After Construction 2013
After a few months, the complex tally was transcribed into an Excel spreadsheet, a process that took several days in the office to complete.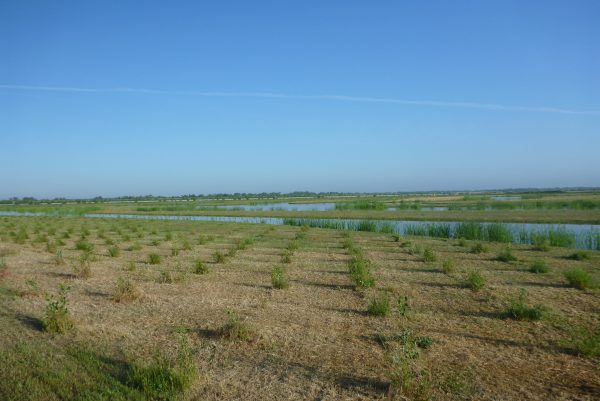 River Ranch Wetlands Plots 2014
Batt said she tried several other digital data-collection tools, but wasn't completely satisfied. Each one had a shortcoming she wasn't willing to compromise on. She noted issues such as the app itself, the ability to create forms was too limited, the app wasn't user friendly, or the customer service was frustrating.
Species Lists and Tree Counts: Streamlined
Batt thought Wildnote showed promise where the other apps she tried fell short, and she put it to the test on the tree count surveys. She discussed her challenges with Wildnote staff, and together they decided to build a custom plus/minus counter to use in conjunction with the drop-down menu and species list. The automatic counting feature speeds data collection on the mobile app and the desktop app exports it to Excel at the touch of a button.  Photos are also easily integrated. She said she also uses Wildnote to assign tasks and set reminders, which makes project management more efficient.
Project Management Equals Project Savings
Batt estimates that incorporating Wildnote into her technology tools helped save her 2-person team 40 hours of work on this tree count.
Any new digital tool needs to integrate with the other tools they use in their work. "Having everything in one device with Wildnote as a component of that is working really well," she said.
"Wildnote has a better photo gallery than other survey apps I've used. I like that I can download in batches and it has better organization and is easier to use."  She is also keen on the customer service. "I like that I can call someone on the phone and say, 'I need this. Make it happen,' and then tweak it myself for ongoing use."
Conclusion
Batt's feedback and genuine enthusiasm for Wildnote's environmental software exemplifies the kind of customer relationships Wildnote fosters. Through ongoing dialogue, testing and experimentation, staff are able to create practical new features, upgrade existing functions and improve task integration. As a result, Wildnote's environmental monitoring and compliance software effectively meets the needs of field data collectors and project managers working in the wetland mitigation banking industry.
"You wish it did what? We can do that!"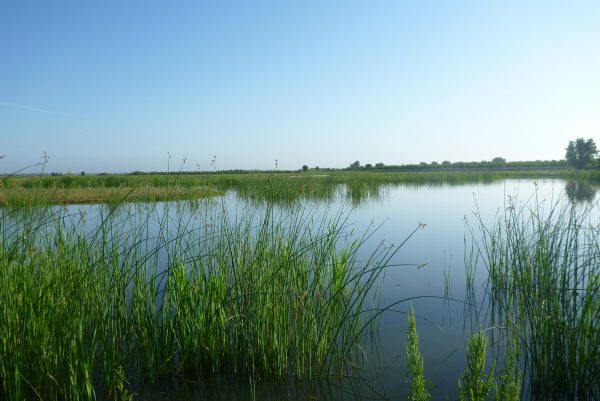 River Ranch Wetlands 2014