"I think the B Corp structure could save capitalism from itself." -Kristen Hazard, Wildnote CEO & Founder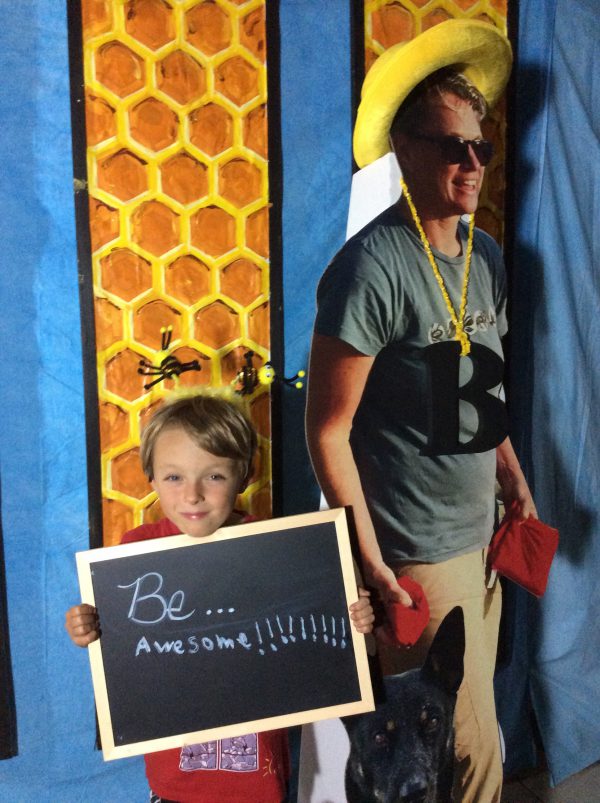 A growing number of companies are redefining success in business by putting high standards of social and environmental performance, accountability, and transparency on an equal footing with financial returns to shareholders. The Wildnote app already helps environmental consulting firms, biologists, botanists, academics, and non-profits to do more with less effort so that environmental sustainability for the planet is pushed forward faster, but CEO Kristen Hazard wants to do more. She chose the Benefit Corporation and B Corp as the best platforms to help elevate her company to world-class, do-good action.
Designed to make money (who doesn't like money?) the Benefit Corporation is a way of merging the social goals of the traditional non-profit with the financial goals of a profit-making corporation. This provides corporations a legal mechanism to factor socially responsible business practices into their fiduciary responsibilities. This new way of defining success is good business in every sense of the word.
People who work at Benefit Corporations are energized by the unifying common purpose of using their talents as a force for good. They aren't just making a good living; they're making a good life! Management consulting experts, Hewitt Associates, finds that companies with higher levels of employee engagement outperformed the stock market by nearly 20%. Meanwhile, the Harvard Business Review points out that "Millennials, which represent roughly 50% of the global workforce, want work that connects to a larger purpose."
The movement toward using business as a force for good has inspired changes in laws, practices, and labeling. In the U.S., the Benefit Corporation structure is what legally allows a company to do good, but their performance is self-reported, while the certified B Corp designation provides third-party verification that a company IS doing good. Much like USDA Organic and Certified Fair Trade labels assure consumers that a product meets standards that are important to them, the Certified B Corp designation assures consumers that an entire company is meeting the highest standards of socially responsible practices from top to bottom. These practices empower individuals, build strong communities, and help protect the planet.
B-Lab is the non-profit organization that "invented" Benefit Corporations by drafting the language and policies that have become law in 33 U.S. states and the District of Columbia. They are also the governing body that provides the third-party assessment, assurance, and support to certified B Corp companies worldwide. There are currently more than 2,100 businesses from 50 countries and over 130 industries designated as B Corps. There is about to be one more!
In addition to incorporating as a Benefit Corporation, Wildnote is taking steps to become a certified B Corp. The certification process requires a full year of operations and assessment for a company to move from being designated a "pending B Corp" to a fully certified B Corp. Recertification is required every two years against evolving standards.
It's easy to see why a company motivated to benefit society would want B Corp certification. A traditional S or C corporation must put shareholders above all else or put themselves at risk of lawsuits and even hostile takeovers, while Benefit and B Corps have doing good baked right into the DNA of the company.
When I asked Hazard why the world needs B Corps she said, "I'm a true believer in capitalism because I'm a builder and a doer. But the downside is the codification of profit above all else, above people, above the environment and all of the other parts of the life-system that we live in. I think the B Corp structure could save capitalism from itself."
Hazard has already built successful companies and knows what it takes. She said, "A big reason I incorporated my start-up as a Benefit Corporation is that I knew I wouldn't have the energy to do what I need to do to build this company to its full potential without a bigger purpose than profits alone. My personal goal is to grow the company large enough that our 1% for the Planet contributions will equate to enough money to create an endowment for the Land Conservancy of San Luis Obispo." One Percent for the Planet is a non-profit that "brings dollars and doers together to accelerate smart environmental giving."
Many companies put B Corp values into practice, but don't become fully certified. Companies worldwide are using B Lab's free self-assessment tool that lets them see where their company already stands to meet the 80-point bar for B Corp certification and to benchmark their results against 40,000 other businesses using the tool. One defining piece of certification is the signing of the: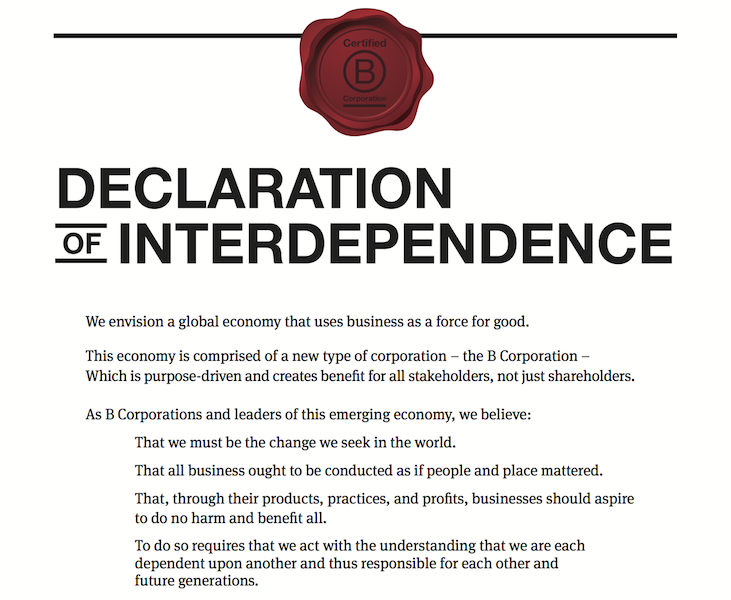 Even though Wildnote isn't fully certified yet, social and environmental responsibility have been part of its makeup from the start. The product itself helps create efficiencies in environmental work that benefit individuals, the environment, and communities. Hazard is a member of the SLO City Climate Action Task Force, and her employees personally participate in the philosophy and spirit underlying the B Corps.
"For several years, I have been a mentor for Women in Tech. I support the environment both personally and through Wildnote, so, deciding to become a B Corps was a no brainer. I am also proud of my people who volunteer to pick up trash at our beaches, participate in Sea Bird monitoring, contribute knowledge and thoughtful considerations to our local government meetings and SLO Chamber workshops," said Hazard.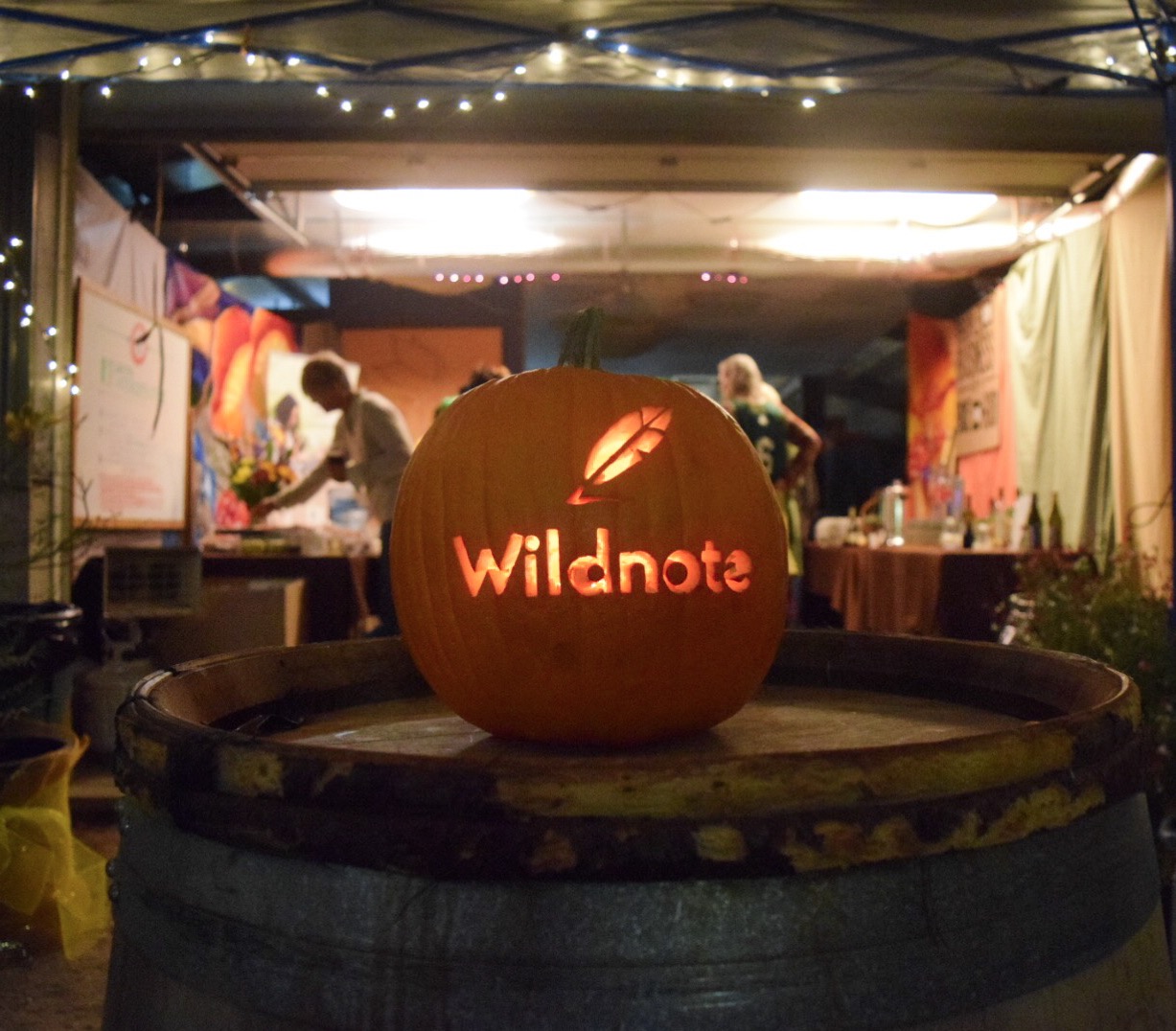 At Wildnote's recent launch party to celebrate its new status, stakeholders got to learn more about the B Corp philosophy as they were appreciated and celebrated for the roles they play in creating a better business model. Hazard wants to spread the word and help make the legal structure of using profitable business as a force for good become the standard rather than the exception. She reminisced about her early years as an entrepreneur.
"Yvon Chouinard, founder of Patagonia, is an inspiration to me and his choices have really informed my journey as a capitalist who is also a humanist and an environmentalist. One of his and Patagonia's motivations is to inspire more companies to become B Corps. He has been successful at inspiring me and Wildnote and I hope to follow in his footsteps of inspiring more companies to claim B Crop status and become certified."
Watch the website for ongoing tales of Wildnote's journey to B-coming! They'll be sharing the process, pitfalls, and successes as they help blaze the trail out of the corporate jungle and into the sustainable future of profitable caring capitalism.
More About B Lab and Certification
https://www.bcorporation.net/what-are-b-corps/about-b-lab
One Percent for the Planet
https://www.onepercentfortheplanet.org
The difference between Benefit Corporations and B Corporations
http://benefitcorp.net/businesses/benefit-corporations-and-certified-b-corps