Best In Class Platform for Environmental Compliance is now Powered By Techstars
How do you take a great idea to an IPO? If you're lucky, you put your company through The Heritage Group Accelerator Powered by Techstars mentorship-driven accelerator. Wildnote and ten other startups recently completed the three-month intensive program based in Indianapolis.
Designed to support selected entrepreneurs, Techstars invests $120K and provides hands-on mentorship and access to the Techstars Network – for life. With its history of guiding 75% of participants to become active companies and another 10% all the way to acquisition, it's a pretty sweet deal. But wait, there's more!
Finding Mr(s). Right
Techstars is designed to help entrepreneurs and innovative startups disrupt legacy industries like industrial production, transportation infrastructure environmental services and safety, and others. Participating in the prestigious program is both an opportunity and a commitment that comes with high-level rewards and expectations. As of 2020, Techstars has mentored 1,900 companies to obtain $7.6BN in funding with a combined market capitalization of $22.1BN USD. That may sound like a lot, but fewer than 1% of applicants are accepted, making it harder to get into than the top universities in the world. 
As difficult as it is, getting in is the easy part! Once accepted, Wildnote founder and CEO Kristen Hazard had to relocate to The Heritage Group's 'The Center' in Indianapolis for three months and keep her San Luis Obispo California based company running at the same time. The program starts off with an intense round of "speed dating for mentors" to find the right match for a fruitful long-term relationship. Like all successful matches, both parties must agree. Meghan Hunt, Director of Marketing for Heritage Environmental, a Heritage Group company that boasts 50 years of environmental leadership, hit it off with Kristen right away.
What You Should Know About Coaching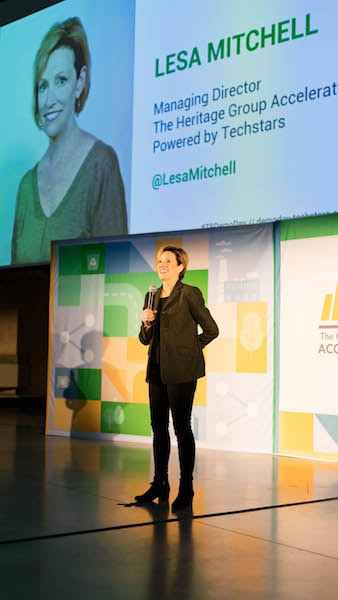 Once matched, the industry leaders share their expertise, resources and networks, to help the startups identify strengths and weaknesses, build capacity, and fine tune their business machine to inspire the investment needed to scale. While that sounds fantastic, what it really means is putting your business, your "baby," under a microscope to be picked apart 24/7, assessed, critiqued, and reassembled. The ability to take direction while maintaining your vision, to pivot and reorient without losing what got you here, are defining characteristics of successful startups
"Finding an entrepreneur with a depth of knowledge and a passion for problem solving makes life awesome for me, as a Techstars Managing Director. Kristen AND Wildnote are in a market ready to scale, a CEO ready to scale who has a platform ready to scale – a trifecta for Techstars." – Lesa Mitchell, Techstars M.D.
Experience – How to get it before you need it
Everybody makes mistakes, that's how we learn. The trick to scaling is not making costly mistakes that you can't recover from. With Techstars, you get the opportunity to learn from other's mistakes, and more importantly, their successes. Hazard said the active engagement from Techstars staff made a big impact.
Raising The Bar – Consuming top shelf advice
"I've been through a few other incubator/accelerator programs and one of the things that pleasantly surprised me about Techstars was the level of support Wildnote received from the Techstars staff. In other programs we would get advice from different mentors leading to more and more tasks that would need to be accomplished. The more advice, the bigger the list of tasks! In Techstars, dedicated staff actually helped us accomplish some of the tasks. The resources included the Managing Director, Program Director, Marketing Advisor, Designer and Technical Advisor. They helped us moved forward with essential deliverables needed during the program."
Hazard relished the opportunity to work so closely with the group of innovative companies and exceptional professionals.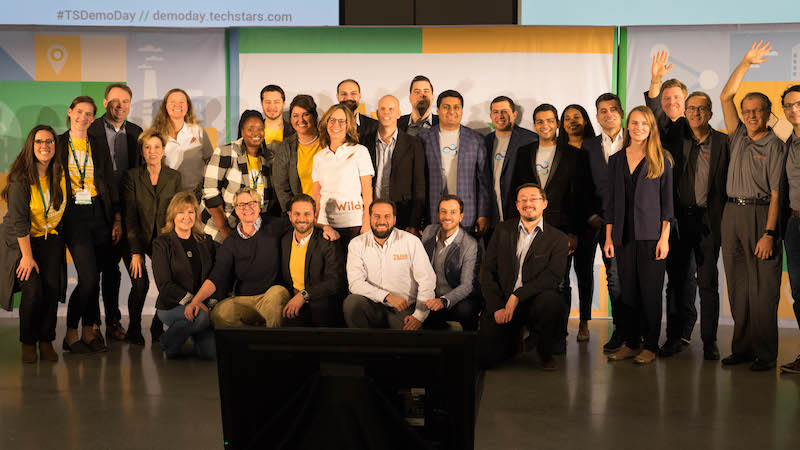 " I was immediately struck by the quality of the companies in the cohort, the Techstars staff and the mentors Techstars brought to the program – high functioning, highly intelligent, impressive people."
The world-class coaching and ongoing access to the Techstars network are key benefits of participation. By bringing expertise from a company with 50 years of environmental leadership, Hunt's mentoring helped Wildnote drill down on market intelligence and commercial growth objectives to achieve success in target sectors.
Walking The Talk – Preparing to scale
Kristen and the team used their time at The Center to dial-in key areas of operation, better understand the market, and prepare the company for the holy grail of startups…the hockey stick growth spurt. During their 90-day sprint to success, Wildnote worked across three time zones and two continents, opened new markets, landed new clients, began new pilot projects, released new product features, redirected marketing, implemented an integrated sales strategy and plotted a visionary path to the future for both the product and the company. All while continuing to serve its existing client base.
Party On the Pitch Deck
For each session, the entrepreneurial bootcamp culminates with "Demo Day." That's when the 10 startups pitch their game-changing inventions to investors, Techstars alumni, the local Indiana entrepreneur community, corporate partners, and even the Mayor of Indianapolis. Wildnote had the distinction of being the only software company in a cohort of "hard tech" (materials) innovators. Wildnote ended 2019 by securing $2M in Seed Funding to drive an ambitious growth plan to bring the platform to a wider market. Look out 2020!